The charmingly unique neighborhood of
Boston Seaport
is a go-to destination for real estate seekers in the technology realm or for those looking for a vibrant way of life in a scenic community. With plenty of dining and entertainment options, art and cultural exhibits, and gorgeous architecture galore, Boston Seaport is a great spot for those seeking a waterfront home right in the heart of the hustle-and-bustle.
If you hope to place your beautiful home on the Boston Seaport real estate market, it's time to learn how to stage your property for a quick, lucrative sale. Staging is the best way to showcase the most impressive parts of your home, wow your buyers, and sell the property as quickly as possible for the highest price. Here are some of our top tips for staging your home to look its very best.
Clean your home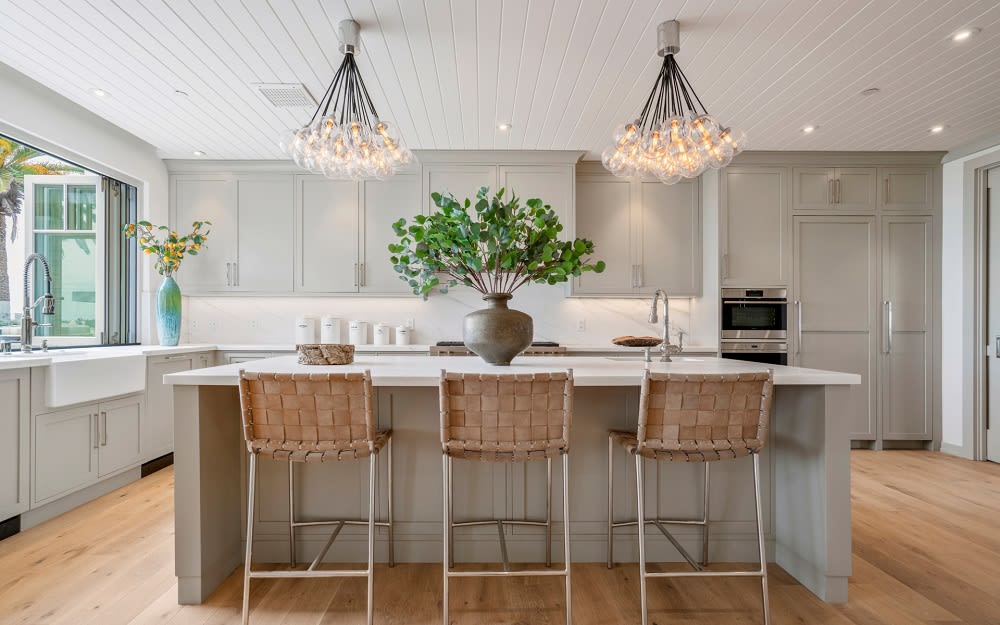 When putting up homes or condos for sale in Boston Seaport, deep cleaning is always an important first step to ensure the property is as market-ready as possible. A clean property shows potential homebuyers that the property has been well taken care of, with hopefully no hidden surprises. You should clean every part of your home, including the ceilings and floors. Even if your kitchen isn't outfitted with brand new appliances, at least ensure that your current appliances are shining and spotless. Clean your bathrooms until they sparkle, paying close attention to everything from the sink drain and the corners of the tub to the space behind the toilet.
Declutter your space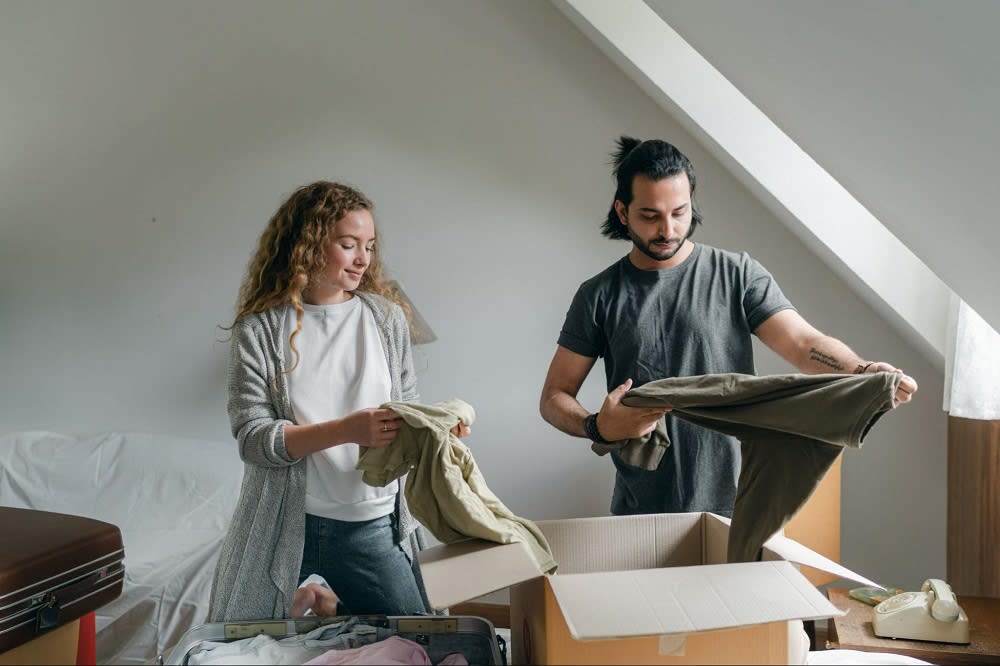 Clutter tends to make your home look much smaller than it really is, which distracts potential homebuyers from your home's main features and stunning design. If you have a lot of clutter throughout your home, it's a good idea to spend some time
decluttering
. You can simply box up and store away everything you don't need every single day, like seasonal clothing, papers, games, knick-knacks, and messy hobbies. Then, donate or throw out unnecessary items, including expired food in your fridge, freezer, and pantry, as well as toys or clothing your kids have outgrown.
Depersonalize your property
You want the people touring your home to imagine themselves happily and comfortably living in the space, but if your personal memorabilia and sentimental items are all over the place, they can be a distraction from this vision. Remove any refrigerator art, keepsakes, and family photos to
depersonalize
your home and give your buyers room to imagine their own photos on the walls instead. Keep your clothing hidden away in your closets, and make sure that the counters in your bathroom are bare, aside from hand soap. Furthermore, put away any other toys and belongings that are highly personal.
Focus on fresh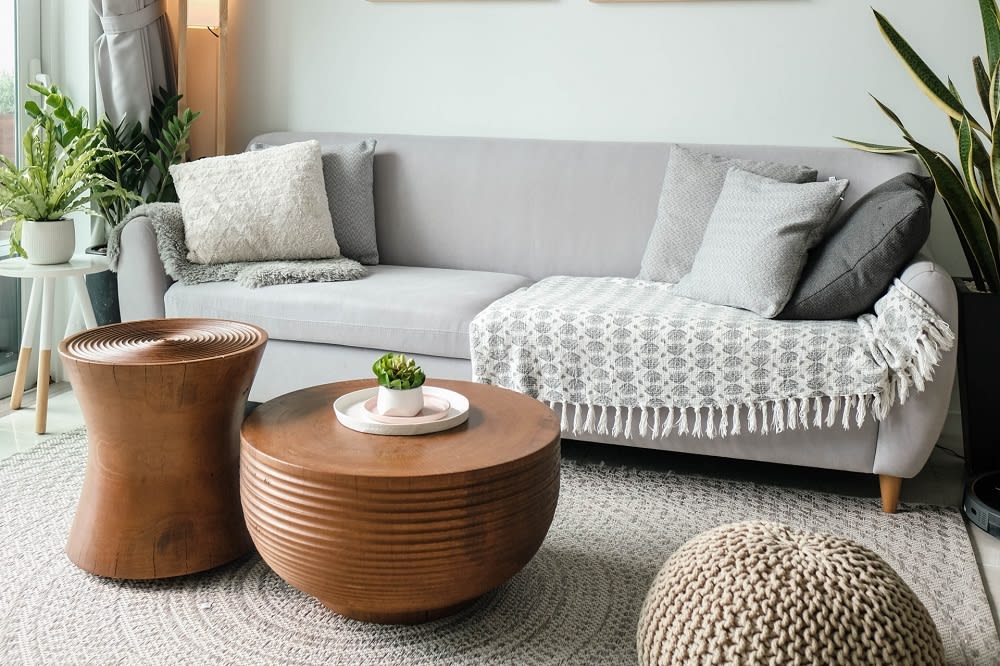 Artfully placed, beautiful plants can make your home cozy and comfortable while adding a splash of color to an otherwise neutral color palette. Try adding a few plants to your space to make it feel more fresh, warm, and inviting for your buyers. If you already own a lot of plants, then make sure to space the greenery out strategically so they don't overwhelm the room. Plus, if any plants are dead or dying, you should replace them to make your home look fresher and well-tended.
Define different rooms
It's crucial to ensure that every single room and different sections of the same room has their own defined purpose. Defining the spaces in your property will help potential homebuyers see how they can optimize the square footage of the home to make it work for their family. For instance, you can turn your finished attic into an office, your junk room into a guest bedroom, or your finished basement into an entertainment room.
Paint your walls
If you have any wallpaper in your home, tear it down and paint over the walls with a calming, neutral color. The same goes for any rooms in your home with particularly bright, vibrant, or non-neutral paint colors that may be distracting or gaudy. For instance, you might enjoy a bright orange bedroom, but this may be a turn-off for buyers who prefer a warm, neutral color that's easier to match, like beige. While some sellers paint the walls white to provide a truly blank slate, it's best to paint your walls in warm, neutral colors since these are more inviting to homebuyers.
Refresh your flooring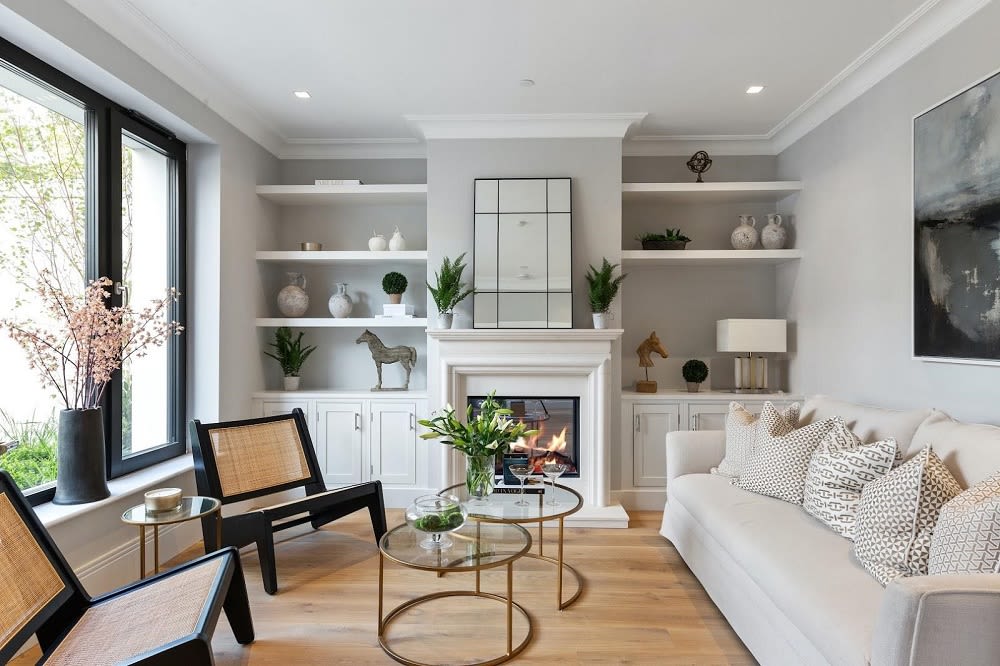 Hardwood floors add a sense of elegance and value to your home, so if you currently have worn-out carpet or linoleum, try refreshing your flooring with hardwood. Hardwood floors offer amazing long-term value, have low-maintenance upkeep, and are excellent for potential homebuyers with allergies. This type of beautiful flooring appeals to nearly any buyer with an eye for function and style. Make sure to focus especially on the kitchen, dining room, and living room spaces if you want to add hardwood flooring, as many buyers may be more accepting of carpet in the bedrooms. You should also upgrade your bathroom flooring with gorgeous ceramic tile or stone if you can afford it. Another great option is high-quality vinyl tiles, which imitate the more expensive materials.
Update your lighting
Want to sell your piece of Boston Seaport real estate? Take advantage of the gorgeous natural light in your home! Make sure to open up all the blinds and curtains when you're doing a home showing to let that wonderful sunshine in. Add some elegant light fixtures where needed, and turn on all the lights on your property during your home showings, including any lights in the closets. Turning on the lights will make your space feel brighter, more spacious, and more inviting (and save potential homebuyers from fumbling with unfamiliar light switches). If you plan to keep your current light fixtures, clean off any grime and dust them thoroughly, so they really shine.
Keep furniture minimal
It's important to be sure that all of your furniture is the appropriate size for the room, with no pieces feeling overbearing or intrusive to the space. Rooms that have a ton of furniture all over the place can feel cramped or cluttered. When your furniture is too large for the space, it can actually make the room look small, which is unappealing to buyers. On the flip side, too small or too sparse of furniture can make the room feel cold and uninviting. If you already own a set of gorgeous, well-maintained furniture pieces, you don't necessarily need to spend money on new items, but make sure that your existing furniture is organized in a way that looks inviting and tidy. You can add some throw pillows if needed for a pop of color, brightness, and contrast. Well-placed art pieces are another great addition to a room to add a sense of style and intrigue without being overwhelming.
Play up the exterior
The outside and entryway of your home can make a huge impression on homebuyers, so it's crucial that you make sure the exterior looks as appealing as possible. You can achieve this by neatly pruning your trees, hedges, other shrubbery, and lawn so that they're in tip-top shape. Also, be sure to eliminate any weeds or debris throughout the yard. Wash your windows thoroughly, and add flower boxes to make them look brighter and more visually appealing. Power wash the outside of your home to make it look brand new. It may also be a good idea to add a fresh coat of paint to the exterior if you have a lot of wear and tear. Clear off and clean the sidewalk and driveway leading up to your property, and purchase new doormats for the back and front doors.
Partner with a real estate agent to sell your home
When you are ready to sell your gorgeous residence, contact trusted Boston Seaport real estate agent
Danielle D'Ambrosio
for guidance. With over 50 years of combined experience in real estate, Danielle and her
team
are well-equipped to help you get your home ready for that "For Sale" sign!